Brave Express Might Gaine SRC Review bu Gold
Description
The following review was originally prepared by Gold on September 22, 2012 on the Robot-Japan Forum:
Hi all, here's a quick look at Super Robot Chogokin Brave Express Might Gaine.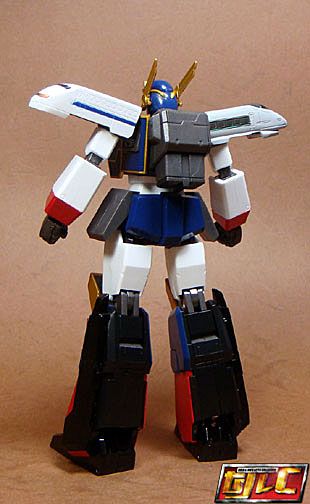 Let's Might Gaine!!!
Click image to begin video playback.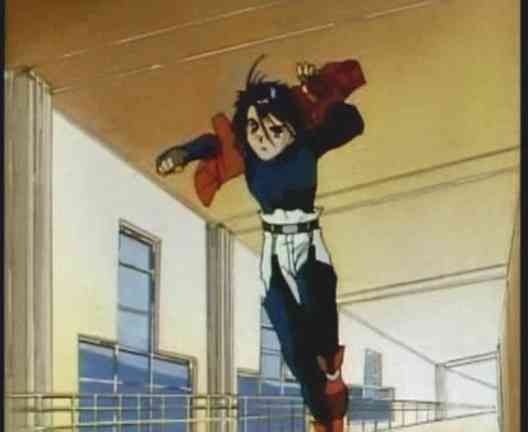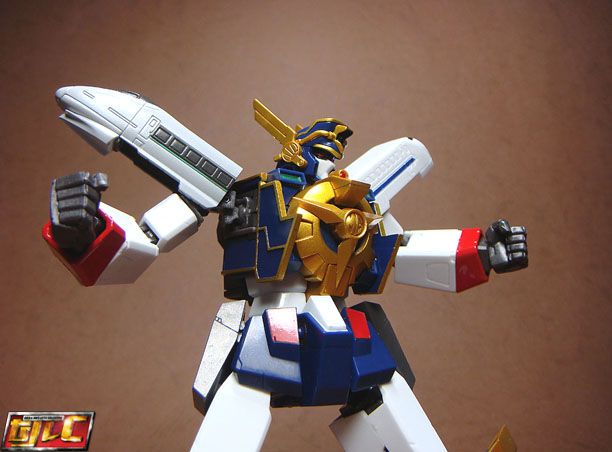 "Carrying wishes on these silver wings! This green light shining of peace! Brave Express Might Gaine, arriving right on schedule"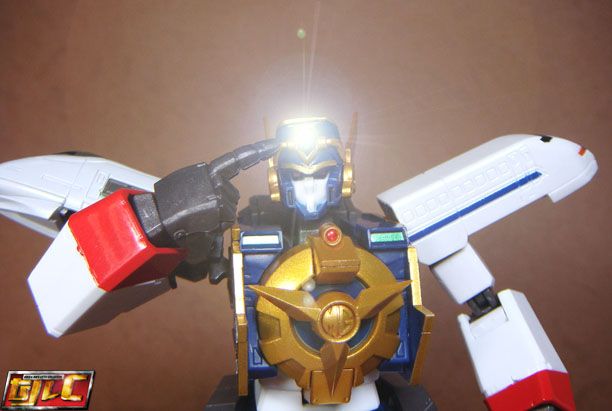 Might Gaine doesn't really come with many weapons and accessories (his only 2 other attacks are the Signal Beam on his forehead and his Mighty Slicers projectiles.
Dou Rin Kens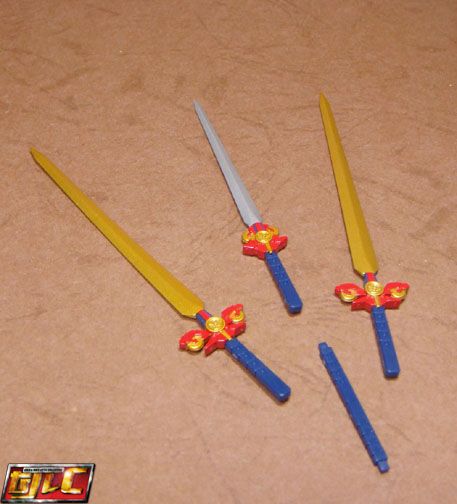 His Dou Rin Ken ejects from his hips, and can be used as a standard sword.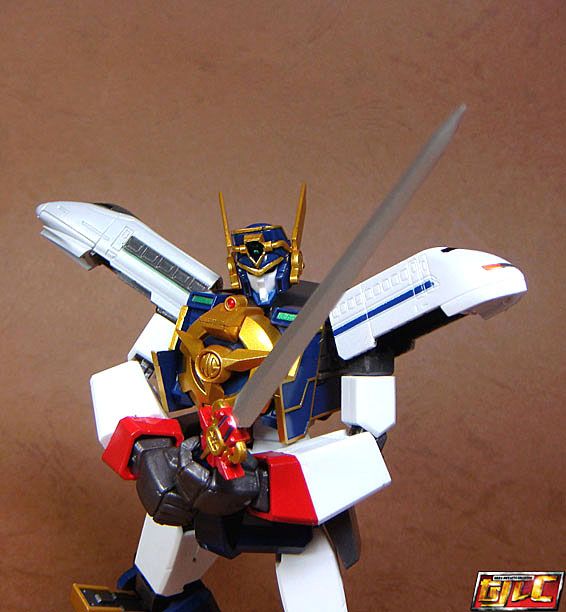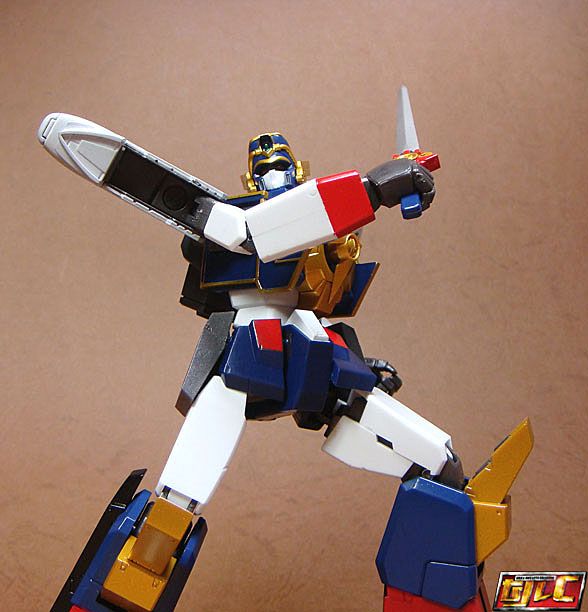 For his Final Attack, the Dou Rin Ken charges into gold-colored sword.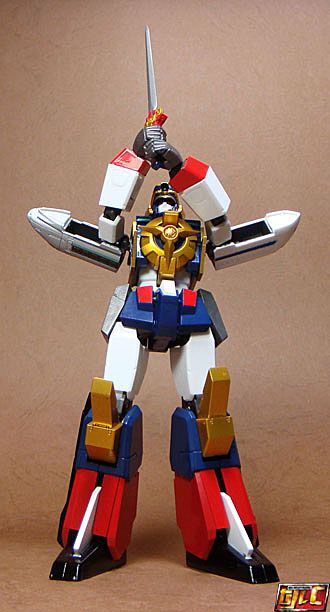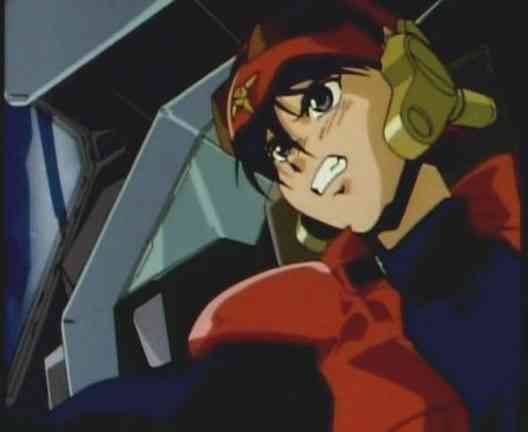 Dou Rin Ken, Ichimon jigiri!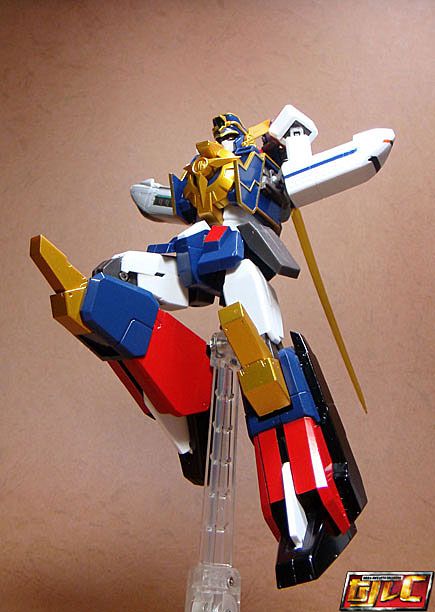 Bandai included a "big" Dou Rin Ken for visual effect for poses like this one.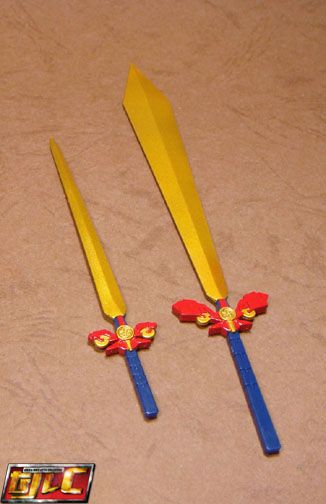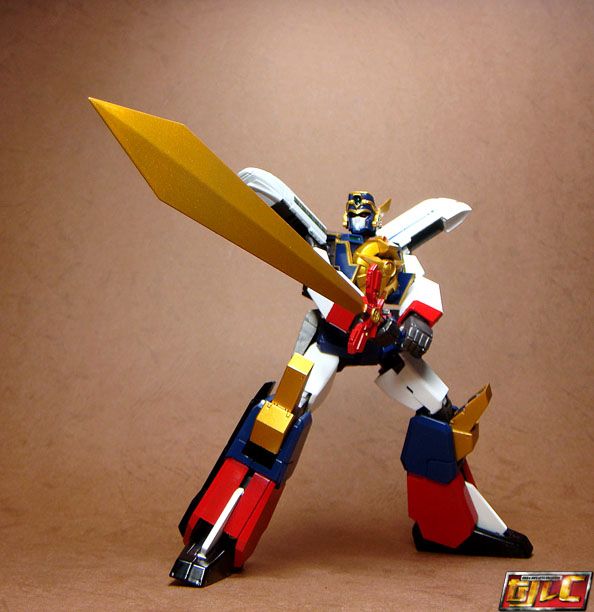 Double Dou Rin Ken – Aside from the final battle, the only time Might Gaine used twin Dou Rin Kens was when he was in Great Might Gaine mode.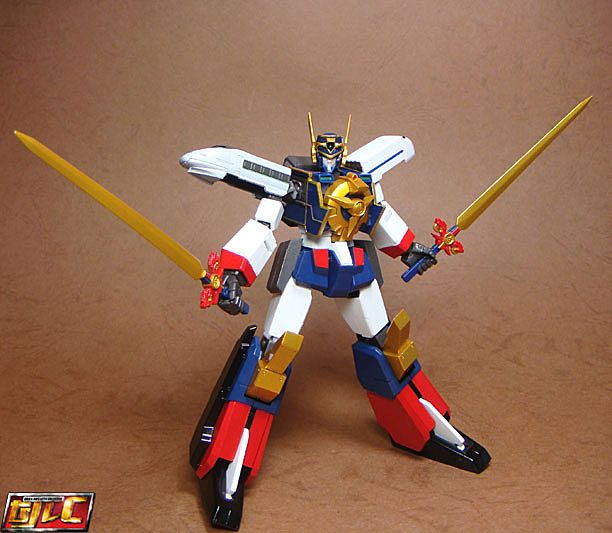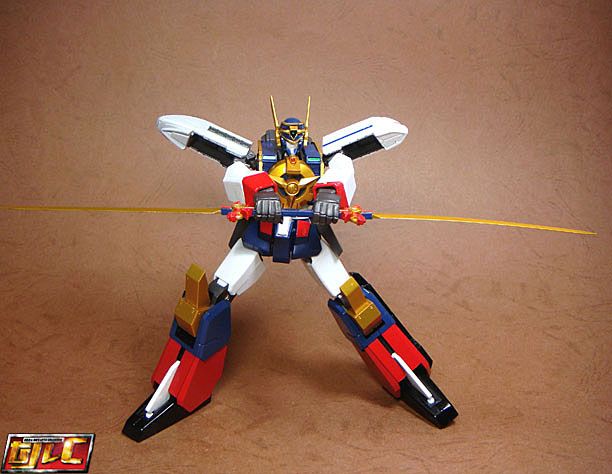 Alternate "face mask blown off" face.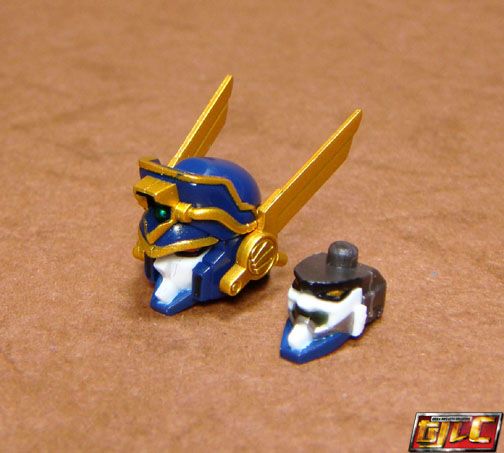 The Final Battle vs Black Noir.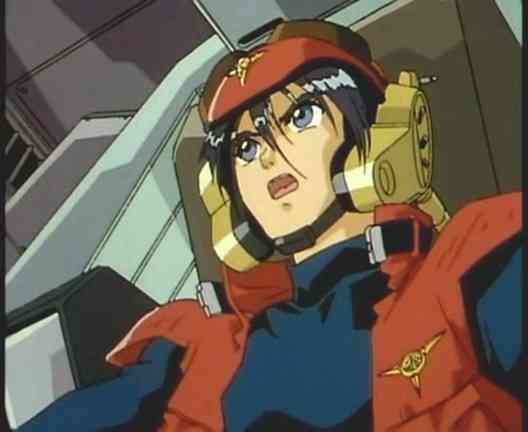 One of the staples of a Brave Show was the main hero's face mask getting blown off in the final battle(with the exception of Gaogaigar, his "final battle" had a "post" final battle, which didn't involve the mask being blown off. lol).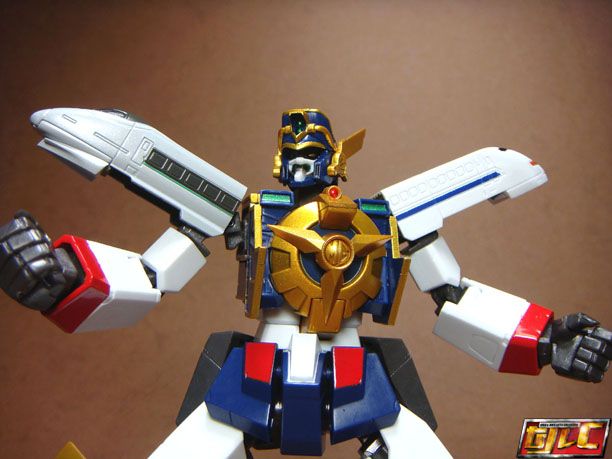 Various pose shots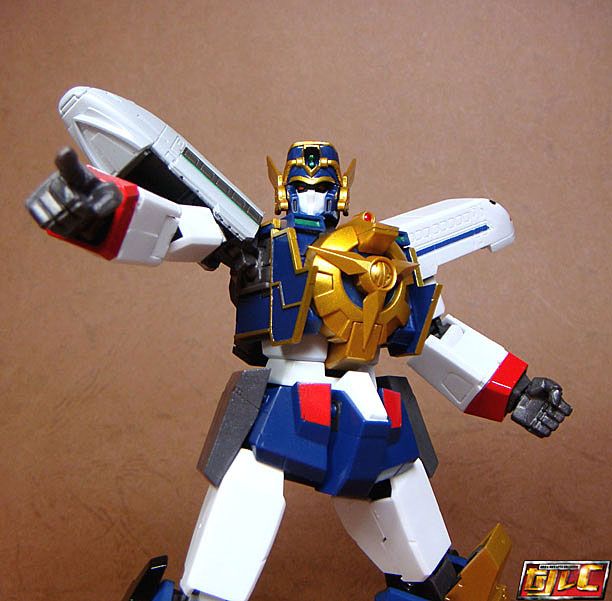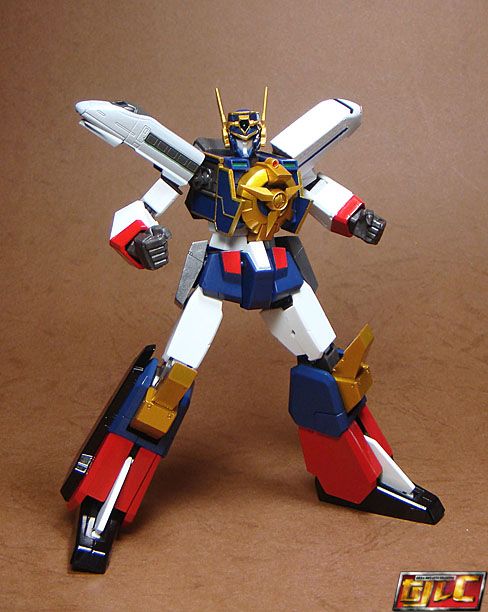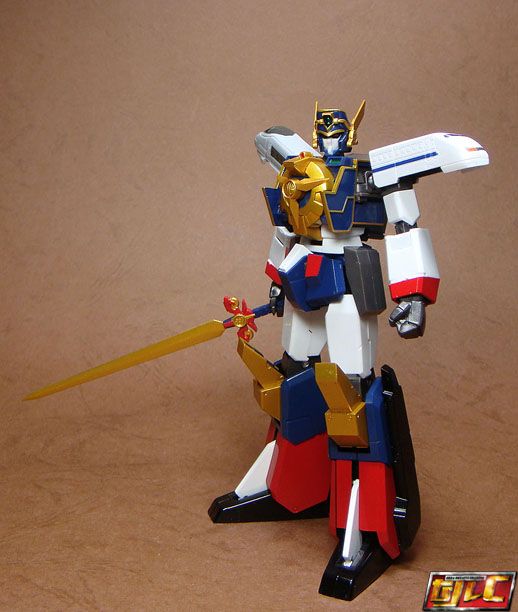 The Good
-Lots of articulation, Thanks to the multi joints in the arms and legs, it's a lot of fun to pose this figure.
-Metal mostly in the portions of the legs and whole feet. Not sure if the torso sports any metal.
-Weighs about 184 Grams.
-Doesn't come with much, but I'm happy Bandai thought of throwing in a "big sword" for that "final pose" effect. Props to the guy who thought of that.
The Bad
-Hard to attach the Soul Stage clip for some reason.
-Secondary wrist joints pop out a bit too easily. I would have preferred the main wrist joints easier to pop than the secondary ones.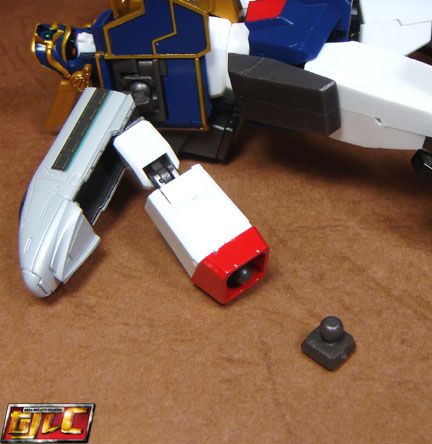 The Ugly
Some paint smudges on my unit's forearm. Nothing really major but still, annoying to see.
Another great SRC figure added to the line. Loads of articulation, good sculpting detail, decent amount of diecast all total up to an impressive figure. If there was anything missing, it would be effects parts for the Signal Beam and the Mighty Slicers. Ah well..
I'm actually surprised the line expanded into another Brave Series, especially considering how many SRC figures are still on the backburner. But I am hoping to see Great Might Gaine Perfect Mode in this line some day.


Funfact: Despite being a Super Robot, Might Gaine cannot fly. He can only do boost assisted jumps. He only gains the ability to fly after merging with Might Kaiser to form Great Might Gaine.
Funfact 2: Might Senpuuji is voiced by the same voice actor as Guy Shishio from Gaogaigar, Nobuyuki Hiyama.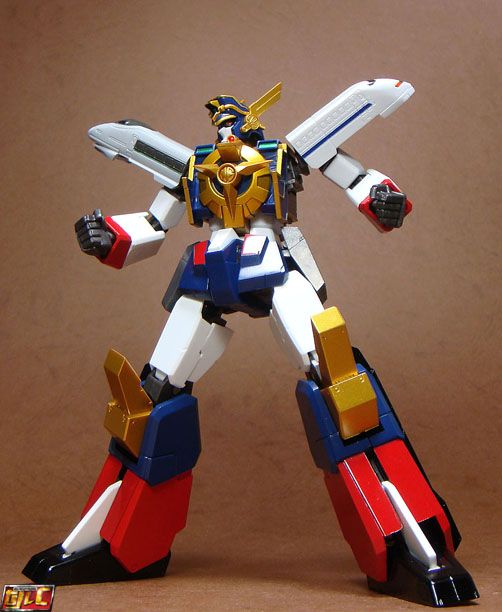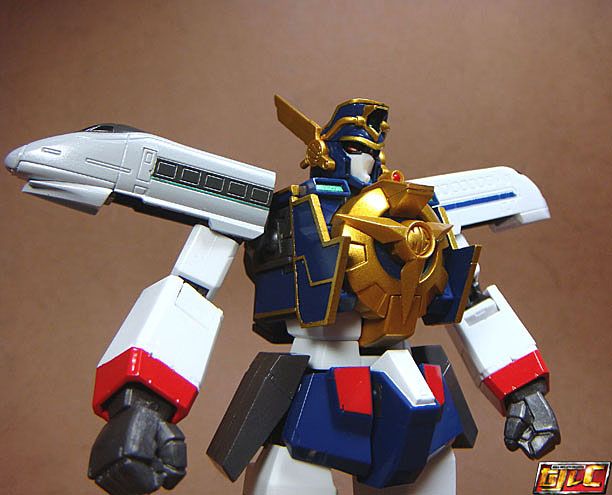 Super Robot Chogokin Trident stage.

Wow. The bubble wrap left some ugly marks here. Good thing they can be wiped off.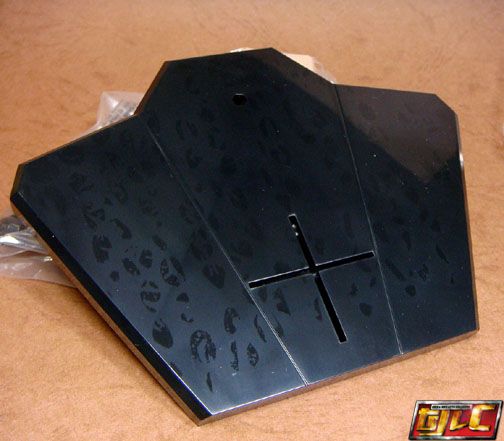 Well.. here it is, I don't really know if this is worth it, as the design is somewhat lacking, as the arms are fixed in position, they can't be elevated like the Soul Stages, so they can only rotate 180 and 45 degree angles. I didn't have time to open out the GGG team so it's only Might Gaine on the thing for now.

Gold